Experience Better Sleep with Our Professional Mattress Cleaning
At 1st Carpet Cleaning, we're not just about carpets and sofas; we're also your go-to choice for professional mattress cleaning in London. Our team of certified experts is dedicated to providing you with a cleaner, healthier, and more restful night's sleep by rejuvenating your mattress.
Mattress Care Specialists: Our team utilizes advanced techniques to eliminate allergens, dust mites, and odors from your mattress.
Healthier Sleep: Our thorough mattress cleaning process ensures a hygienic and sanitized sleeping surface, perfect for allergy sufferers and anyone seeking a clean and comfortable bed.
Peace of Mind: Sleep better knowing that your mattress is free from dust and allergens with our expert mattress cleaning service.
Eco-Friendly Solutions: We use environmentally friendly products to protect your home and the planet.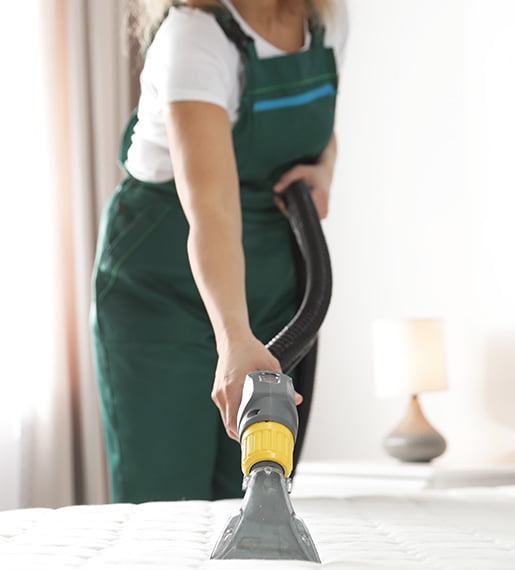 A good night's sleep starts with a clean and comfortable mattress. At 1st Carpet Cleaning, we specialize in providing professional mattress cleaning services that not only restore your mattress's hygiene but also offer you a healthier, more restful sleep.
Your mattress is the unsung hero of your bedroom, providing a cozy and comfortable haven for relaxation. Over time, it accumulates dust, allergens, dust mites, and odors that not only affect your sleep quality but also pose health concerns. Our mission is clear: to enhance the quality of your sleep by ensuring your mattress is pristine and allergen-free.
Our certified team of experts takes a holistic approach to mattress cleaning, employing advanced techniques to eliminate allergens, dust mites, and odors. The result is not only a visually cleaner mattress but also a hygienic and sanitized sleeping surface, perfect for allergy sufferers and anyone seeking a clean and comfortable bed.
At 1st Carpet Cleaning, we are committed to excellence, not only in our cleaning methods but also in our choice of products. We are proud to offer eco-friendly solutions that protect your home and the environment, ensuring minimal environmental impact.
We understand the value of convenience in your busy life. Our flexible scheduling options allow you to enjoy a clean and comfortable mattress without disrupting your daily routine. We value your time and ensure that our services are prompt and efficient, so you can enjoy a healthier and more restful sleep as soon as possible.
Choosing 1st Carpet Cleaning for mattress cleaning isn't just about a cleaner mattress; it's about peace of mind and a more comfortable and healthy sleep experience. We are dedicated to ensuring your complete satisfaction and your confidence in the cleanliness of your sleeping space.
What Our Customer Say's
These are some of the responses from our customers who are very satisfied
Hard floor cleaning by 1st Carpet Cleaning was outstanding. They brought back the shine to my floors. Thank you!
1st Carpet Cleaning offers a fantastic service at a great price. They made my home feel cleaner and healthier. Highly recommended!
The team at 1st Carpet Cleaning was a pleasure to work with. They delivered quality upholstery cleaning with a smile.
I had my mattress cleaned by 1st Carpet Cleaning, and now I sleep soundly knowing it's spotless and allergen-free. Impressive results!
I entrusted 1st Carpet Cleaning with my cherished rugs, and they were returned looking beautiful. Such attention to detail!
I can't thank 1st Carpet Cleaning enough for their prompt and professional service. My carpets are now clean and fresh.
My rugs have never looked better. 1st Carpet Cleaning really knows their stuff. I'm thrilled with the results!
The stain on my sofa was a real eyesore, but 1st Carpet Cleaning got rid of it. I'm beyond pleased with the outcome.
I was amazed at the transformation 1st Carpet Cleaning brought to my dingy carpets. They look brand new! Excellent service.
My upholstery had seen better days, but 1st Carpet Cleaning worked their magic. It's like I have a new living room!
Frequently asked questions
How often should I have my mattress cleaned?
We recommend professional mattress cleaning at least once a year for optimal sleep hygiene.
Is mattress cleaning safe for my family, including children and pets?
Yes, our cleaning methods use eco-friendly and non-toxic products, ensuring the safety of your loved ones.
Can mattress cleaning help with allergies or asthma?
Yes, our thorough cleaning process is designed to remove allergens and dust mites, making your mattress more suitable for allergy sufferers.
How long does the mattress cleaning process take?
Typically, it takes 15-30 minutes per side, depending on the size and condition of the mattress.
Do you offer stain removal for mattresses?
We specialize in removing stains from mattresses. The success of stain removal depends on the type and age of the stain.
Can you clean all types of mattresses, including memory foam and latex?
Yes, our methods are suitable for all types of mattresses, including memory foam, latex, and more.
Do you provide any protection or treatments for mattresses to prevent future issues?
Yes, we offer mattress stain protection treatments to safeguard your mattress against future spills and stains.
YOU can call us NOW and get a better discount price!
1st Carpet Cleaning is your local, trusted carpet cleaning company, serving customers in the heart of London and surrounding areas. We take pride in being the carpet cleaners near you, ready to transform your carpets and make your home more inviting. Our team is dedicated to bringing the beauty and freshness back to your carpets, upholstery, and other surfaces. With a strong presence in the community, we're known for our reliable and efficient service. When you need professional carpet cleaning that's just a phone call away, 1st Carpet Cleaning is the name to trust. Your satisfaction and the cleanliness of your home are our top priorities.